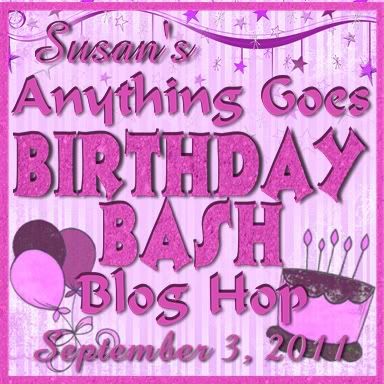 Welcome to
Susan's Anything Goes Festive Birthday Bash Blog Hop
to celebrate Susan E. Bermudez's birthday with anything goes to celebrate her birthday whether it be a card, favor, banner, or that something special. Hope you'll enjoy our hop while you check out the blogs as we celebrate Susan's birthday with our usual creativity and craftiness!!!
Karber Digital Images will offer blog candy to a random commenter of the blog hop :)
Please be sure to stop by Staci McD's site (http://preciousmem.blogspot.com) as there will be a $20 gift card to Designs on Cloud 9 to one commenter on her blog.
If you're coming from Brenda's blog, then you're in the right place. If not, why don't you hop on over to Lynne's blog so you can start at the beginning.
Some of the blogs may be offering candy so be sure to leave your comments along the way
!
I actually was able to complete two, yes two projects for this hop. For my first project, I've created a quick and easy card for Susan. SHHHH...don't tell her. LOL!!! It's a simple card but I hope it will mean a lot to her.
Details
Recollections cardstock
white Sakura Gelly Roll pen
Sweet Treats Cricut cartridge - cupcake cut at 4"
ribbon
fabric brad by Cloud 9 Design
My next project is a layout that was inspired by Monique Mixon of Mix-on the Memories. We had had a conversation about this layout but I took it a step further.
Details
Recollections cardstock
patterned paper (I forgot the company.)
white Sakura Gelly Roll pen
Forever Young Cricut cartridge - lady and "fabulous" cut at 10"; mirror cut fit to page
I don't have candy for my hop but in order to be eligible for the Grand Prize, you'll need to leave a comment under this post. I hope you'll come back real soon as I have some wonderful Guest Designers next month and I'll be celebrating my birthday with a blog hop too.
Take care and be blessed. I love you and there ain't nothing you can do about it. Now head on over to Cindy's blog and enjoy what she's created for you.