Happy Thursday!
For this entire month of October, I have been celebrating my birthday by showcasing some of the wonderful scrappy friends that I have met. These are the last days and I must say, that I still have some wonderful artists scheduled for the next few days. You don't want to miss a thing. Also, you have until October 31 to enter the drawing for the FREE My Memories Software.
Today, we have Erin. She's a phenomenal artist and has participated in the swaps that I host through my blog.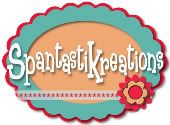 Here is her project and a bit about her. Enjoy her project. Be sure to stop by her blog, Spantastikreations, and show her some love.
My name is Erin and I have been blogging since July 2010 on the recommendation of my friend Ann and now I can't stop, LOL.
***BLOG CANDY ALERT***
As a prize for commenting on my blog and showing some love to my wonderful friends, I have a copy of the My Memories Suite software to give away to one of my followers and commenters. I must say that I have fallen in LOVE with this software. It's so easy to create a beautiful layout, card, or other digital project in minutes.
Here is a sample of a recent layout that I created using the software.
1. In order to be eligible for the My Memories Suite Birth Month Giveaway, here is what you need to do.
1. Be a follower of my blog.
2. Go to the My Memories Suite website and check out their digital paper packs. In your comment under this post, tell me which paper pack is your favorite.
2. Visit my bloggy friends and leave them some love.
Extra chances to win can be gained by doing the following.
1. Go to My Memories Suite Facebook page, like them, and tell them I sent you. Come back here and post an additional comment. (One per person for the month.)
2. Go to My Memories Suite blog, follow them, and while you're there check out all the wonderful creations. Come back and leave another comment for an additional chance to win. (One per person for the month.)
3. Follow My Memories Suite on Twitter. Come back and leave another comment for an additional chance to win. (One per person for the month).
4.Share this giveaway on your blog or Facebook. Come back and share a link to your post with me for an additional chance to win.
If you would like to go ahead and purchase the software, wouldn't you like to save $10 on the software and then a $10 gift certificate to the store? Well...click on my banner below to claim both!
Be sure to enter code
STMMMS93181
at checkout.
I promise you won't regret it!
Happy scrappin'! I love you and there ain't nothing you can do about it!