Happy Sunday!
I'm SOOOOO excited! For this entire month of October, I'm celebrating my birthday by showcasing some of the wonderful scrappy friends that I have met. This has been a wonderful journey for me since I started blogging in June of last year. Who would have thought that I would meet so many wonderful people via the internet.
Today, we have the lovely Amy of Love to Crop. I must say her work is amazing. She swears up and down that she was stalking me first but I don't think that's true. ;-)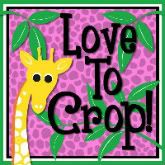 Here is her project and a bit about her. Enjoy her project. Be sure to stop by her blog and show her some love. She's

even

has a giveaway in honor of my Birth Month Celebration. How cool is that!!!
I've been crafting one thing or another since I was a small child -- My earliest crafting memory is of painting ceramic figures, though I also vividly remember my mom and I tediously cutting out paper dolls that would keep me occupied for HOURS, DAYS, even WEEKS... As I grew into the age of Barbie... Well, I created entire villages for them (probably influenced by my love of the Little House on the Prairie books since Skipper owned a General Store just like the one the Olsen's had)... My love of creating things with paper was quite evident even then, as I made little notebooks, picture albums, and envelopes complete with lick-n-stick stamps!! From cross-stitching to crocheting to tole painting (I was once the youngest person to ever attend a tole painting convention!! Yee-haw!!)... From card-making to scrapbooking to, well, anything else artsy, crafty, or involving hot glue... I love dabbling in all of it!! Of course, I "blame" this on my ultra-talented parents, as there is nothing that I can do that they can't do better!! :)

Okay, let's get on to the project I made for Christel!! I actually had another item in the works for her, but it just didn't work out (sometimes, when I try something new, it takes a few more tries -- So maybe you'll see a version of my original project in a few weeks -- wink, wink)... :) But I know that Christel really likes the vibrant colors of red, purple, and turquoise AND she's very fashionable and chic (I have my own version of fashion, but we'll save that for another day!! LOL)... So I decided to make her one my explosion purses in a few of her favorite colors...
***BLOG CANDY ALERT***
As a prize for commenting on my blog and showing some love to my wonderful friends, I have a copy of the My Memories Suite software to give away to one of my followers and commenters. I must say that I have fallen in LOVE with this software. It's so easy to create a beautiful layout, card, or other digital project in minutes.
Here is a sample of a recent layout that I created using the software.
1. In order to be eligible for the My Memories Suite Birth Month Giveaway, here is what you need to do.
1. Be a follower of my blog.
2. Go to the My Memories Suite website and check out their digital paper packs. In your comment under this post, tell me which paper pack is your favorite.
2. Visit my bloggy friends and leave them some love.
Extra chances to win can be gained by doing the following.
1. Go to My Memories Suite Facebook page, like them, and tell them I sent you. Come back here and post an additional comment. (One per person for the month.)
2. Go to My Memories Suite blog, follow them, and while you're there check out all the wonderful creations. Come back and leave another comment for an additional chance to win. (One per person for the month.)
3. Follow My Memories Suite on Twitter. Come back and leave another comment for an additional chance to win. (One per person for the month).
4.Share this giveaway on your blog or Facebook. Come back and share a link to your post with me for an additional chance to win.
If you would like to go ahead and purchase the software, wouldn't you like to save $10 on the software and then a $10 gift certificate to the store? Well...click on my banner below to claim both! I promise you won't regret it!
Happy scrappin'! I love you and there ain't nothing you can do about it!