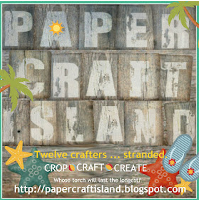 Happy Saturday! I just wanted to share a card with you that I created for a challenge going on over at Paper Craft Island. Kimi's daughter Taylor is turning 10 and she is sponsoring a challenge. The rules were to create a card that would be appropriate for a 10 years girl. I really hope she likes it. The final card measure 5.5" x 5.5". My supply list is under the picture.
Materials:
cupcake from "Sweet Treats" Cricut cartridge
sentiment from "Birthday Cakees" Cricut cartridge
face stamp from "Wide Eyed Kids" Peachy Keen Stamp Set
"Nana's Kitchen" patterned paper by DCWV
button and ribbon from stash
Well, that's it for today. Remember I love you and there ain't nothing you can do about it. Peace and Pause!!!